04 March 2007:

Sonique in Brighton on April 5th, 2007!

Maundy Thursday with Coco Latté @ The Ocean Rooms on Thursday, 5th April.
Coco Latté presents DJ Sonique featuring DJ Hollie and Diablo. DJ Hollie will be playing some FunkySexyDiscoHouseMusic along with the most fabulous DJ Sonique all the way from Ibiza and The Ocean Rooms' very own DJ Diablo. Come join us for a pre Easter party!

Maundy Thursday with Coco Latté
The Ocean Rooms
Brighton
England


---



04 March 2007:

Classique @ The Glasshouse - Sonique live / Paul Morrell (Saturday April 7th, 2007)

British DJ / Pop icon Sonique will be appearing at Classique on Saturday 7th April 2007 to play an exclusive live PA /DJ set.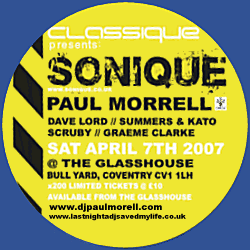 This event will showcase a host of the club tracks that took Sonique into the mainstream as well as some cutting edge Electro & Hard Dance tracks. Last time Sonique played Classique she totally rocked it. Advance tickets are £10 available from The Glasshouse.
DJs: Sonique (Live PA /DJ set), Paul Morrell, Dave Lord, Scruby, Summers & Kato and Graeme Clarke.

9:00pm - 4:00am
Classique @ The Glasshouse
The Bullyard
City Centre
Coventry
CV1 1LH
England

Advance tickets: £10


---



01 March 2007:

Sonique is invited to Austria's capital Vienna to spin at the second stop of the "Private House Heaven & Hell Tour" on 09 March, 2007! The party takes place at Mumok Hofstallungen, part of MuseumsQuartier and starts at 10 pm. Local support: DJ Dennes Deen. Specials: the impressing Heaven&Hell performances, live percussions, Heaven & Hell gogo dancers, live Black Jack, a lottery area and the exclusive Bacardi Lounge.

About the venue: The MuseumsQuartier in Vienna is one of the ten largest cultural complexes in the world. But above all, it is a forward-looking, inner-city cultural district that will have an enormous impact on future trends. The MuseumsQuartier unites baroque buildings, new architecture, cultural institutions of all sizes, various disciplines of art, and recreational facilities in a single spectacular location.


( enlarge flyer )
---



28 Feb.. 2007:

Gran Canaria (Spain) - Heaven in the Centro Comercial Yumbo is celebrating Carnaval in style with an appearance by Sonique on March 03, 2007. She's been here on several previous occasions, so knows how to get Gran Canaria dancing.

( enlarge flyer )
---



22 Feb. 2007:

With its trademark sexy underground house, emphasis on style and sophistication and with a new season of parties just around the corner... Coco Latté is back in London and you'd be a fool to miss out!

Coco Latté founder and manager, Nicholas Chrisostomou, personally oversees every event and has gathered a throng of fabulous people to help make each and every party a special one.

So don't miss the next Coco Latté on Saturday, 24th February with the very special return guest

DJ Sonique

plus DJ Luigi Rosi flying in from Italy. Joining the fabulous line-up is Coco Latté and Ultra resident DJs Mark Bambach, Femi B, Guy Williams, DJ Philly, Jon Dennis, Paul Heron, Ben Jamin, DJ Minx and Severino. Open: 11pm to 11am. Tickets: £10 advance, q-Jump Tickets are on sale now at Prowler Soho and Clone Zone Soho and via Ticketweb at www.areaclub.info.
Venue: Coco Latté @ Area, 67-68 Albert Embankment, Vauxhall, London SE1 7TP

( enlarge flyer )
---



17 Jan. 2007:

After experiencing "mad 6 years" since the break-
through as a recording artist and still being busy as a DJ gigging world wide, Sonique has announced to take a real break and go to South America on holiday.