Sonique's second solo album in 2003 - singles earned some success
Universal Music released Sonique's second critically acclaimed album "Born to be Free", in June 2003. Featuring production by Graeme Pleeth who has produced the likes of Peter Gabriel, Billy Ocean, Kim Wilde, and Appleton, and Robin Barter who has worked with Freddie Mercury, Kylie Minogue, and Norman Jay, the new album shows a more grown up side to Sonique. Seriously song-orientated, it blends Sonique's diverse influences whilst cohering seamlessly as a whole.


The first single "Can't Make Up My Mind", entered the UK Top 20 singles chart and topped the UK dance chart for two consecutive weeks. It also went in at #1 in the Dance charts in Germany, Spain and Scandinavia respectively, becoming one of the Europe's most played dance songs of 2003.

The follow-up single, "Alive", tried to repeat the success of "Can't make up my Mind". It was A-listed at MTV-Dance and went on to top the UK Upfront club chart. In Germany, it was the only single released from "Born to be Free", and surprisingly flying high on the Airplay charts. "Alive" peaked at #2 for some weeks there but couldn't turn this popularity into a massive commercial success. "Born to be Free" appeared only once at #97 in the German album chart in October 2003 and has missed the UK album charts completely. However, Universal's promotion budget for the album was little. While in Germany nothing important happened, some of the hi-gloss magazines in the UK published articles about Sonique in Spring 2003.

In the last two years, Sonique has alternated international DJ gigs with writing. She has guested on tracks with Mogwai and Tom Novy, producing some of what have been described as the best underground dance songs of 2003.
Signed to a new record company in 2004, but will we see a new album too?
Since the minor commercial success of "Born to be Free" failed Universal's expectations, they refused to release another single which was already announced for Christmas 2003 and dropped Sonique instead. So, in 2004 she teamed up with Kosmo Records in Germany and locked herself in the studio with number one German Dance DJ and producer, Tomcraft, working on material for her third and most anticipated album of her career, "On Kosmo". Sonique has spent about half of the year 2004 working in the studio with Kosmo's best producers and associate producers (besides Tomcraft) such as: BBE, Tom Novy, Babylon Robots and Kosmo's newest hit producer, Trokken. A first single ("Another world") was released on vinyl end of September 2004 and on CD on 13 December 2004, respectively. How does Sonique feel about all this? As she sings in her new single, "I've been waiting all my life to do what I'm doin' now!"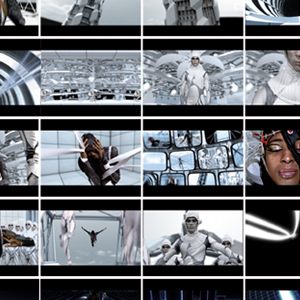 With the style demonstrated in "Another world" Sonique returned to club roots but with a progressive techno appeal. There was only little promotion for the record, including the release on the so-called "Pock it!" format (a 3" CD single with two tracks only) but the new design identity was ground-breaking. The videoclip for the song, keeping that futuristic "Another world"-style, was even award-winning.

Kosmo released another single in 2005: "Why" (produced by Babylon Robots), which lead back to the pop area. The down-tempo anthem "Alone" (produced by Tom Novy) was choosen as the third single coming along with the album "On Kosmo", but its release was deleted. Even the album itself, for the first time announced to be released by the end of 2004, was postponed for several times. A couple of days before the last announced release date in Germany via distributor Sony/BMG on February 13, 2006 it was cancelled as well as a short promo tour by Sonique through German clubs around this time.



Continuous confusion about release of new album and third single
Now the slow house track "Sleezy" is picked as the third single of Sonique's Kosmo connection (vinyl out since end of April), while the album should come out finally in autumn or winter 2006. For the records both, Kosmo seemed to have lost the distribution contract with Sony/BMG. In spring 2006 they could acquire Germany's leading independent record company Edel Records to continue that business. Even "new" cover designs were made (example see right), but the CD single release date (30 June, 2006) was deleted by Edel by short notice.

While the 3rd anticipated album «On Kosmo» finally got released in Germany on 29 September 2006 (UK street day: 13 Nov. 2006), the new CD single is deleted for the time being by the actual distributor Sony/BMG.

In June 2006, London-based Azuli Records released a pair of 12"es for the UK market with mixes of the brand new song "Tonight", which isn't included on the album. But as a teaser for this album, Kosmo released a 4-track EP on 12" vinyl in October 2006, available across Europe at least as a German import. Besides the already known "Another world", there is a brand new extended mix of "My dream" (it gives the record's name "My dream EP"), along with the album versions of "Save myself" and "Another moment", although named EP versions here.